Science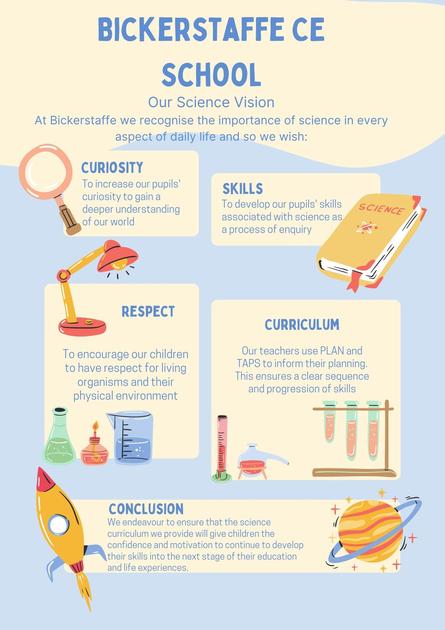 Science at Bickerstaffe KS2.
Science in EYFS & KS1
Our creative Science curriculum is delivered and planned through PLAN primary Science guidance and documentation and we use TAPs to help guide some of our science investigations. We ensure all the national curriculum topics are covered and revisited throughout the key stages and that working scientifically skills are progressed over the years. Within the weekly forest school sessions children in EYFS cover science topics, providing the children with the unique opportunity to experience Science in action.
The rest of the school dedicate Friday mornings to Science, where we aim to develop scientific skills and concepts, ensuring sticky knowledge in topics. These are developed through enquiry and observation where children have a chance to question and process a theory and investigate their own lines of enquiry through hands on investigations and explorations. Evidence for this will be gathered and presented in a range on different ways allowing children do develop recording skills.
Our creative Science curriculum is broad and balanced and focuses on:
Working scientifically
Seasonal changes
Living things and their habitats
Animals including humans
Everyday materials
Plants
Earth and Space
Light, Sound and Electricity
Rocks
Forces
States of matter
We focus on revisiting all of these areas across all key stages to secure and deepen the children's understanding, embedding and building on prior knowledge. We believe that learning about Science in a range of contexts will be of great benefit to our children as it will allow them to make links across the curriculum and develop a contextual understanding of Science in the wider world. We also have 'Science adventure' topics in each Class which link to topics and work covered in British Science week.